How to Reconfigure Your Existing Business Space in a World Where COVID-19 Exists
Posted on May 04, 2020 in Blog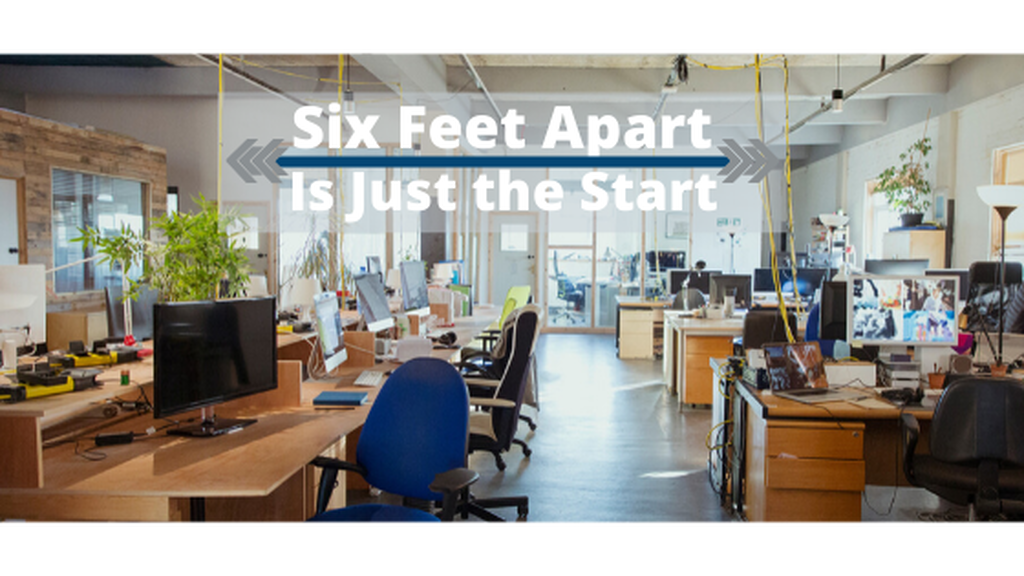 In a changing world for which no one could have foreseen, we're all learning how to exist in a new way. Unfortunately, we will never live in a world without COVID-19 again, which means getting back to "normal" is going to be a new normal for all of us. As the government begins the slow process of opening the country back up for business, how do you ensure that your facility meets the requirements necessary to keep employees safe when they return to work?

At Hance Construction, we are starting with bringing mindful practices to our construction sites:

Our projects have hand-washing stations brought in.
Crews maintain the CDC recommended 6 feet or more between workers.
When possible, gloves are worn while working.
Our crews are living like families, limiting their exposure, spending work time only with one another, and not venturing anywhere else to keep themselves and their families safe.
At our main office, we are staggering our working hours and allowing 2 to 3 people to work onsite, while maintaining appropriate social distance and wearing masks in common areas.
Otherwise, we're working from home. At job sites, some trades are working at night under bright lights, while others work during the day to keep from crowding the workspaces.
Job trailers at worksites are cleaned from top to bottom every single day to keep from transferring germs.
All client meetings are handled virtually to keep everyone safe.
Maintaining a mindset of adaptability with everything we learn as we go will help businesses like ours, as well as yours, move forward in our new world. Getting back to business and all the things your company does best will require a little planning and innovating before everyone is together again. That's where our company can help yours.
How Businesses Can Prepare for Getting Back to Work During a Pandemic

Not every business can operate remotely. For businesses like manufacturing facilities, cannabis growth facilities, or even office spaces, it's crucial to get operations back up and running as quickly as possible.

Tech companies who previously moved toward shared workspaces without cube walls or offices in an effort to improve communication, may find themselves needing to divide their large communal workspaces with dividers or even walls once again to reduce the spread of germs.

There's a lot more your business can do to protect your employees as well as your business in our new world, that go beyond the apparent precautions like disinfecting common areas and encouraging ill employees to stay home and get better. It's going to require some updated space planning, which you can (and should) start now.

Take into account the spaces throughout your business and how your employees utilize them while doing their jobs. Also, consider your common areas that everyone uses, like your break rooms and restrooms. Studies have shown that 6 feet may not even be far enough apart when someone coughs or sneezes. Are there areas where employees were previously working closer than 6 feet apart, and is it still necessary for them to be that close to be productive? If so, there's a lot we can do to reconfigure that space in order to maintain productivity and communication while also improving safety with germs. The design-build team at Hance Construction can help you quickly and easily reconfigure any manufacturing, warehouse, or office workspaces to keep things running efficiently and safely even when there is not additional room to spread out.
Repercussions of Avoiding to Plan for COVID-19

Failure to plan throughout your workspaces for COVID-19, will ultimately result in an outbreak in your facility, which will hurt productivity (and your bottom line) more than anything. Work with a company like Hance Construction who's equipped to help you plan, build, reconfigure, or renovate your existing space, no matter the size, as quickly as possible, without extra costs. We understand this expense isn't something any business planned for this year. As a design-build company, our ability to redesign spaces will help you get back up and running more quickly than other companies can. Contact us today to do a virtual walk-through of your existing space for advice and an estimate.

Take the time you have now to develop extra precautions and reconfigure your space before your employees come back. Hance Construction can help along the way.